Developer
Here to help, to learn and to flourish.
Adrian comes to net 2Community,Inc with a background in computer & network consulting.  He's helped individuals plan, install, and maintain computer networked systems and service requirements by providing the following quality services:
computer networking
wireless networking
Internet connectivity
server administration
PC connectivity
hardware installation
hardware maintenance
network security
anti-virus protection
ad ware protection
spam protection

website implementation

web design

web hosting
When not working in Drupal, you can find Adrian researching his ancestry or photographing events for family & friends.  He has a nice Drupal site regarding African American Bluegrass; check it out. https://www.africanbluegrass.com.
Maybe you'll even catch him playing music sometime.  Adrian's musical knowledge and history includes the ability to play music on vinyl, cassette tapes, 8-Track tapes, CDs & the radio… oh, and guitar, harmonicas, nose-flute, banjo, electric bass, trombone and tuba.  He studied at the Old Town School of Folk Music.  If you want to see a great photo of him with an upright bass, back in his Bluegrass band days, check out his website. https://www.unitybluegrass.com.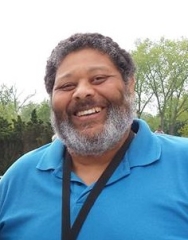 with n2C for
2 years 362 days