Intern (CS Major)
Here to learn and grow
Clae is an aspiring software developer.  He's currently pursuing a Bachelor of Science degree in Computer Science from Aurora University.  With a history of making the Dean's List and a GPA of 3.95 we're happy to welcome him aboard.
Clae has received multiple honors from Western Illinois University, American Academy of Art, and Aurora University.       
He also has experience with technical work in hardware and software while interning at Illinois Math & Science Academy (IMSA). 
Clae's interests also include music as well as visual arts; so much so that he's pursuing minors from Aurora University in Guitar and in Art.  With other musically inclined individuals at n2C, we finally have an excuse to set up a band practice room at our corporate HQ; it'll be between our mailroom & our weight room. No more garage practices for Clae.  
Though others in net2Community have an interest in trainspotting, we don't believe he has any interest in picking up that hobby.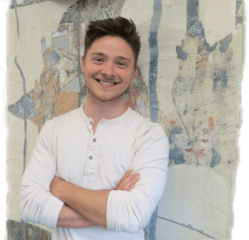 with n2C for
1 years 276 days